SunBelt Business Advisors – @sunbeltmidwest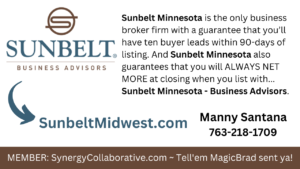 Sunbelt Business Advisors
Are you looking to SELL (or buy) a business?
Sunbelt Business Advisors, headquartered in Minneapolis, has the largest, most experienced group of business advisors, analysts and brokers anywhere; with a track record of delivering for clients in every industry category.
CONTACT: Manuel Santana on LinkedIn
WEBSITE: https://www.sunbeltmidwest.com/
Become a Synergy Collaborative Member – Go Here
Register for the Minnesota Business EXPO – Go Here
Register fro Minnesota Event Planners EXPO – Go Here
AFFILIATE DISCLOSURE: The links on this website are my personal affiliate links and I will earn commissions from the purchases made from these links. This is how I earn money on the internet as a Wealthy Affiliate. (and you can too) 

JOIN MyWealthyAffiliateTeam.com (no fee, it's free) and we can collaborate for mutual success!

Together We Accomplish More!